The Rivers Pipe Band



Rivers Pipe Band 1962 -1963 in front of the Old Fire Truck and Rivers Fire Hall
Ken Dawson is the man in the truck and was a volunteer fire fighter.
The Pipe Major ( closest to the man in the truck ) is Don Mitchell.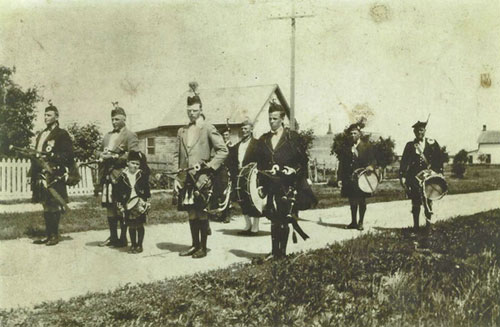 The Rivers Brandon Pipe Band - taken in the early 1930's.

The pipers Left to Right are: Dunc Middleton, George Mitchell,
Hugh Stewart and Donald (Don) Mitchell

The Bass drum is Walter Parker and at the back are 2 drummers from Winnipeg and
Bill Roberts on the right.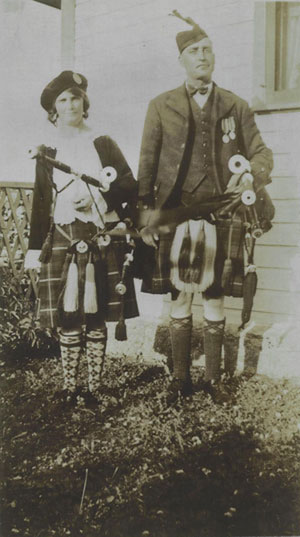 Two unidentified pipers from the Rivers Pipe Band (undated).




The Rivers and Brandon Pipe Band marching south on Main Street with the Rivers United Church
in the background.

Donald (Don) Mitchell and George Mitchell are the first 2 pipers in the front row.
This is from the mid 1930's.




L- R Pipe Major D. Mitchell

R. Parker C. Douglas
B. Kamula K. Martel
B.Mackintosh Bob Kamula
S. Chatwin P. Harris
J. Moggach B. Stewart
A. Brandon B. Twigge
J.Spearin J. McGhee
A. Chartier B. Harvey
A. Smith B. Martel
P. Dawson G. McGhee
D. Moggach D. Davies
J. Miller R. Dunn
L. Douglas D. Taylor
I. Taylor




The dancers of 1965 were:

L- R Barbara Taylor, Peggy Stan, Diane Ross, Kathy Shanks, Janis Spearin, Brenda Mackintosh