News 2018





News 2017




Rivers recognizes train station's centennial
Lt.-Gov. Janice Filmon on hand for plaque reveal BY IAN FROESE
THE BRANDON SUN • SATURDAY, JUNE 10, 2017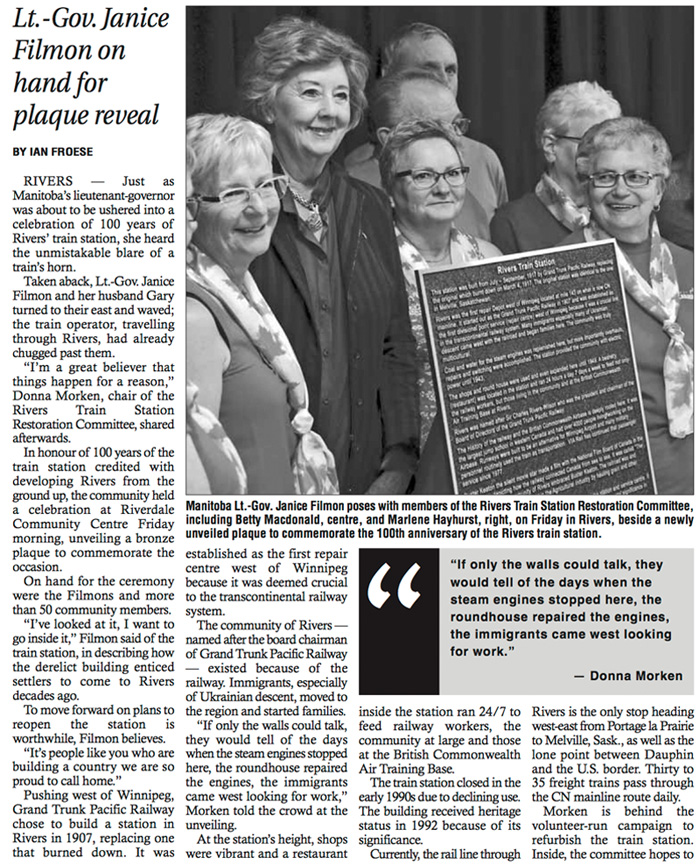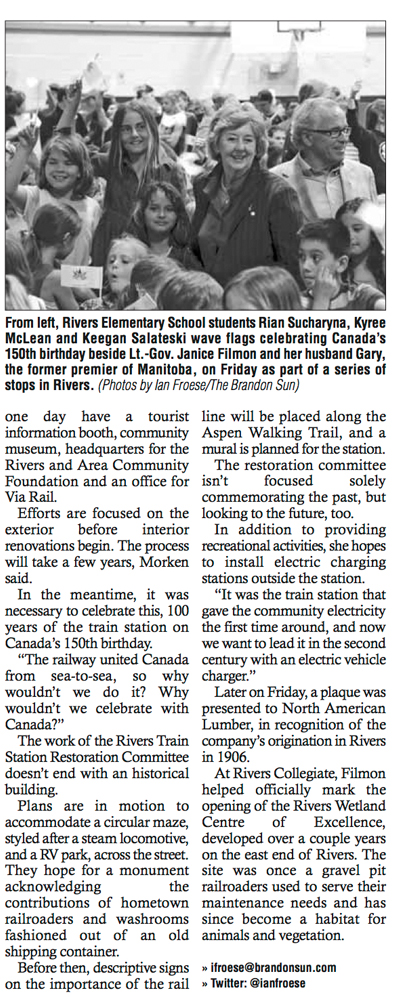 Building on the past
Small communities rising to the challenge of saving historically significant structures
Christian Cassidy By: Christian Cassidy
Posted: 08/13/2017 3:00 AM

https://www.winnipegfreepress.com/local/building-on-the-past-440102823.html
'
Summertime is when many Manitobans take to the highways on vacation or to visit loved ones. If you go off the beaten track into some of our smaller communities, you can still find a rich, though dwindling, collection of buildings that make up our province's built history.

Maintaining and renovating these structures would be difficult in any setting, but in a community with small — in some cases, shrinking — tax base and limited pool of volunteers, the challenge is all the greater. Thankfully, small, but dedicated, groups of people in many communities have taken on the often decades-long commitment to preserve and restore some of these structures for future generations.

Three buildings that are in different stages of renovation are the Rivers Train Station, Rapid City Consolidated School and the Ninette Sanatorium. If you find yourself near one of these communities, be sure to stop in and check them out.

Rivers Train Station

The Rivers Train Station is the only passenger stop between Portage la Prairie and Melville, Sask., and Dauphin and the U.S. border.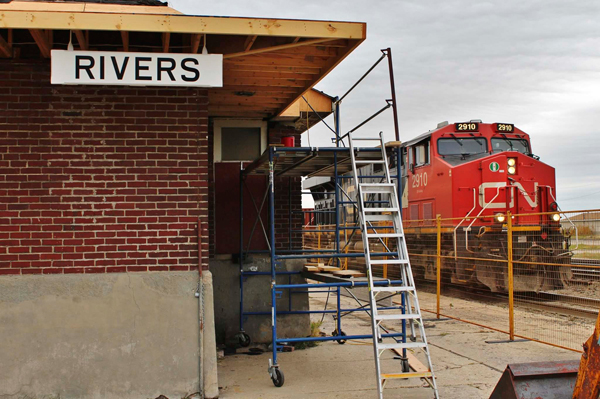 Christian Cassidy - Winnipeg Free Press

Built: 1917
Architect: Grand Trunk Pacific Railway
Information: www.riversdalyheritage.ca/station

Rivers, located 250 kilometres west of Winnipeg, was once one of the province's most important railway hubs.

In 1907, the Grand Trunk Pacific Railway (GTP) chose the town to be a divisional point on its trek west to the Pacific coast. This meant a huge investment in the community in the form of a roundhouse, (a semi-circular building used to service locomotives), repair sheds, a coal storage yard, and bunk houses for some of the 300 or so men employed at the facilities.

This two-storey station was built in the summer of 1917 to replace the original circa 1909 station, which was razed by fire.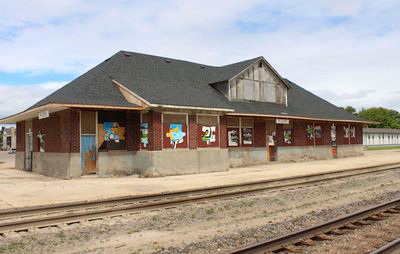 Christian Cassidy

The Rivers Train Station's roof was replaced in 2016 at a cost of around $70,000.
The GTP was absorbed by the CNR in 1920, but the town continued to be an important railway hub for decades to come. The station was likely at its busiest during the Second World War, shuttling personnel and equipment to and from Canadian Forces Base Rivers.

The CNR began to reorganize its facilities in the 1950s and, soon after, most of the town's railway buildings were demolished or sold off. Today, the train station is the only significant structure remaining from Rivers' storied railway past.
In 1989, the station, which by then was owned by VIA Rail, was closed. The company was asked to hold off on any demolition plans until the town could decide whether or not they wanted it to have a role in Rivers' future. The company agreed, and in 1992 the building was designated a municipal heritage site and received federal recognition under the Heritage Railway Stations Protection Act.

In 2006, a formal Rivers Train Station Restoration Project Committee was created to bring the building back to life.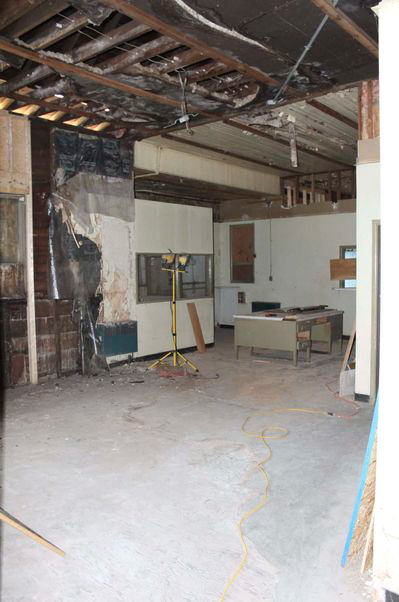 Christian Cassidy

When completed, the Rivers Train Station will house offices, a museum, an arts and culture space and a VIA Rail waiting room.

Donna Morken is the chairwoman of the committee and has been involved with saving the station for nearly 20 years. She is driven by the fact that, "Prairie railway stations were the heart of the community, they were the beginning of many communities as the railway pushed west and united the country from sea to sea, adding, "Prairie railway stations are not unlike the grain elevators, if we do not restore them they will be gone forever."

In 2014, the restoration committee signed a 40-year lease agreement with VIA Rail for the station, which means all its fundraising efforts go toward the renovation itself, not a mortgage payment. In 2016, the largest project to date was undertaken with the replacement of the roof, at a cost of about $70,000.

Morken notes the station is not just an important part of the town's past, but also of its future. Plans for the renovated space — the completion date is still unknown — include a tourism office, a museum, offices of the Rivers and Area Community Foundation, and an arts and culture space.

There will also be a VIA Rail waiting room as, starting in 2008, Rivers became the only on-off passenger point between Portage la Prairie and Melville, Sask., and between Dauphin and the U.S. border.

See complete article at:

https://www.winnipegfreepress.com/local/building-on-the-past-440102823.html





News 2016




$25K grant keeps Rivers station project on track
SATURDAY, SEPTEMBER 24, 2016 • THE BRANDON SUN






Dreams from A to Z: the legacy of the Alphabet Railway
Rivers Banner, July, 8, 2016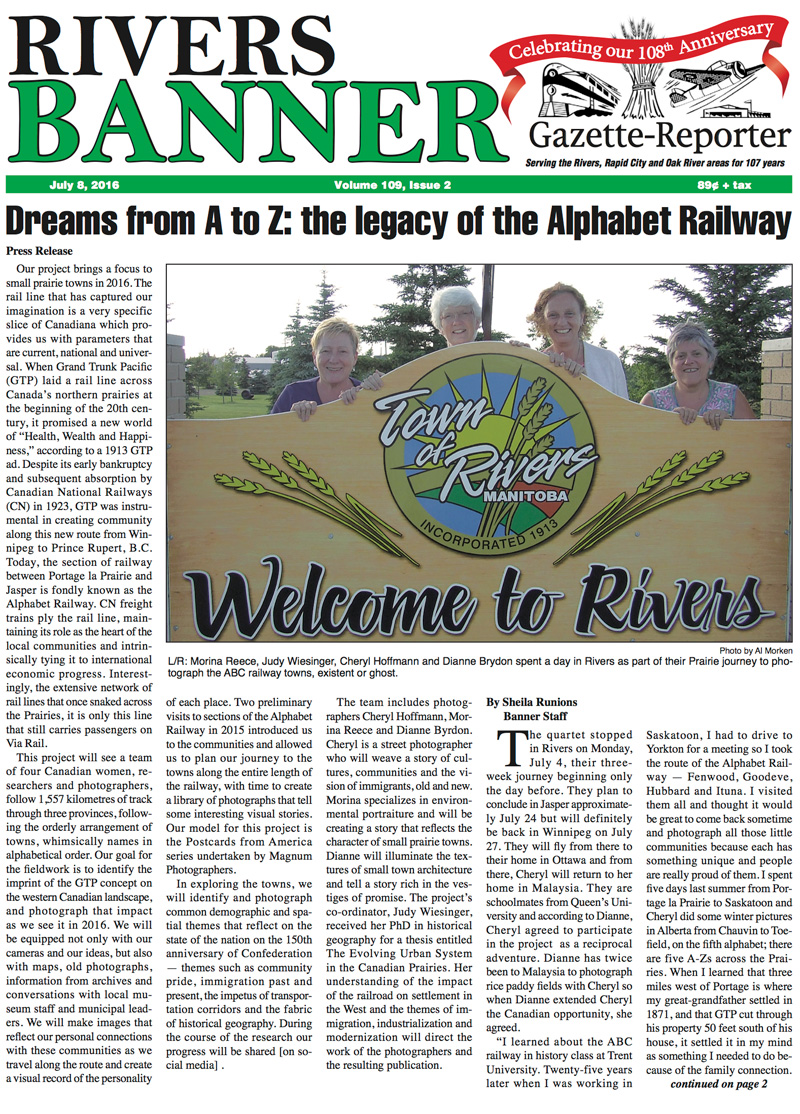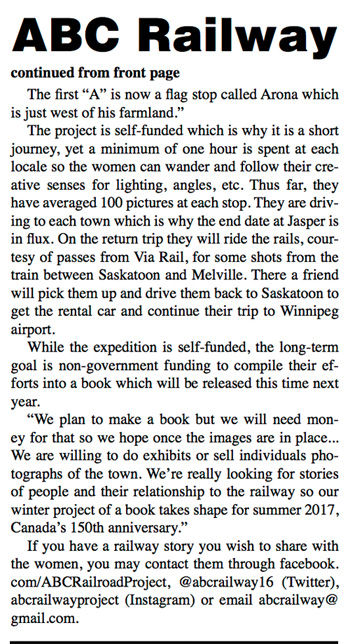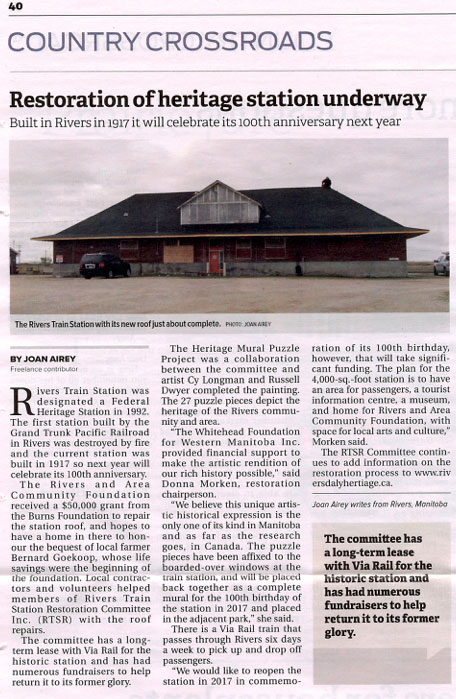 News Archive / 2013





Centennial Celebration!

The Town of Rivers was incorporated in 1913.
The Rivers 100th Anniversary Celebrations took place on July 2 -7, 2013
Visit the Rivers Centennial Site at: rivers100.com
Visit us at Facebook: https://www.facebook.com/Rivers100





News 2012





BIG PIECES OF THE PUZZLE
Brandon Sun, Aug 1, 2012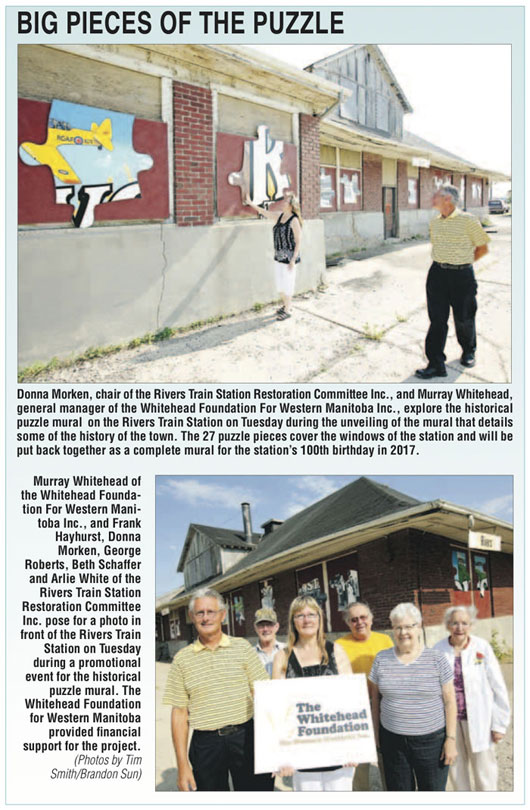 News Archive / 2011




Parks Canada did a Manitoba Heritage Play on the train from Winnipeg to Rivers and then Rivers to Winnipeg depicting Manitoba's History to celebrate Canada Parks 125 th history.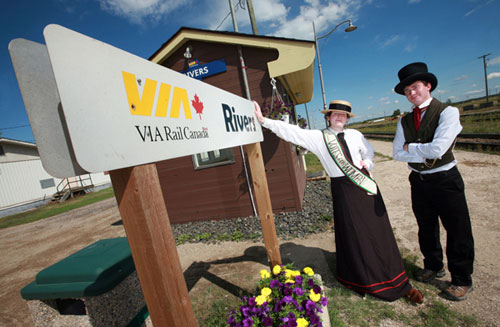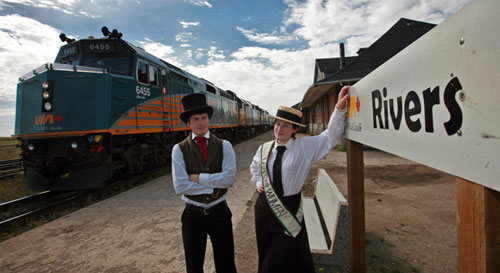 News Archive / 2009





Committee Learns About Grants




by Jessie Bell, RTSRP Reporter



Michael Blatherwick, regional counsultant for Manitoba Department of Culture, Heritage, Tourism and Sport, western region, attended a Rivers Train Station Restoration Committee meeting on Tuesday evening, January 27th. He explained the availability of two provincial grants: Community Places and one for heritage buildings, favouring the latter. Both grants can be applied for every year; however, Community Places is for projects that must be completed with the year the grant is made. He added that more than one organization within the same town could apply for grants. The heritage grant would be most suitable for the train station restoration as this project will be carried out over a period of several years.

Blatherwick reported a facilities consultant had recently inspected Rivers train station. Having worked in construction for many years before employment with Manitoba government, this consultant was impressed with the beams, sound foundation and solid wood flooring. He was very positive about the state of the building and excited to see restoration commence. Advice was given concerning the roof, which should be shingled to protect the interior. Once the indoor update is completed, the cheaper asphalt shingles could be replaced by the enviro-friendly 'cedar' shakes.

Aeleen Sclater showed the group a sample of lumber saved by her father, the late Abe Sclater, from Floors Elevator where he was employed for many years. He had salvaged the boards from the interior of the elevator leg when the structure was being demolished. Deep grooves had been created in the lumber by the movement of grain which eventually removed the soft wood, leaving a sculpted hard wood. The rescued lumber, along with the history of Floors Elevator, have been offered by the Sclater family as a museum collection once the station is restored. Another donation to a station museum are paintings of steam locomotives by Stephen Lowe of Brandon and formerly of Rivers. A monetary donation was gratefully received from a local grain group who recently disbanded.

Posted by Rivers Train Station Restoration Project Committee

And the Winner Is!

The Great Train Trip Giveaway winner Dennis Basso (l) of Deloraine, Manitoba receives a voucher from Rivers Train Station Restoration Project co-chair Ralph Sprenger (r) for a train trip for two!

The presentation took place at the Rivers Train Stationette, where Mr. Basso and his wife Marlene will board the VIA Rail Canadian train, traveling first class to Vancouver. The Basso's will take their trip sometime before the end of August.





News Archive / 2008


WIN! A TRAIN TRIP FOR TWO TO TORONTO OR VANCOUVER!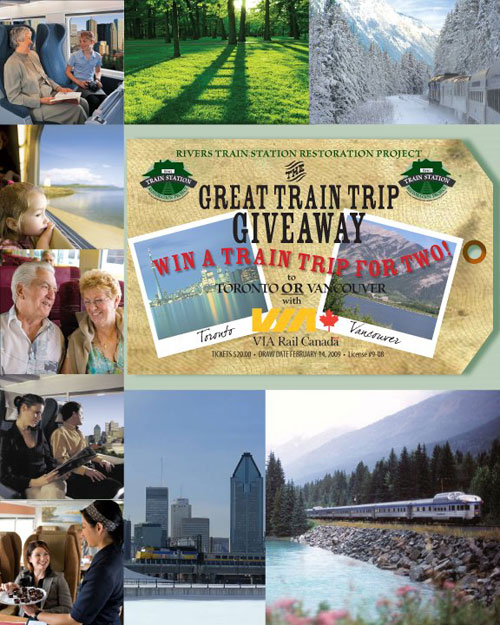 Get on board The Great Train Trip Giveaway! You and a friend could be traveling VIA Rail's signature Silver and Blue class from Rivers to either Toronto or Vancouver ~ a round trip valued at nearly $5,000.!

• Get your tickets today ~ $20. each ~ only 1,000 sold.
• Tickets available at Carol's Time Again Treasures in Rivers, Tuesday through Saturday, 10 am to 5 pm ~ call 204-328-4434 ... or ... call 204-328-7841 evenings and weekends.
• All proceeds go to the Rivers Train Station Restoration Project. Draw date is February 14, 2009 in Rivers, MB.



JUST IMAGINE!



You could win a return trip for two from Rivers to either Toronto or Vancouver on VIA Rail's award winning Canadian train. Your one/two day trip each way will begin in Rivers (departs Rivers Wednesday, Friday and Sunday), and you will be treated with VIA's signature Silver & Blue class service throughout the journey.

• Much more than a way to get there, Silver & Blue class offers the romance and sophistication of a classic overnight rail experience. Enjoy the best of Canadian cuisine, freshly prepared and served in the stylish dining car. Pause for a drink in the Skyline car or Park car, or climb up to the observation dome for a 360-degree view of your surroundings. And fall asleep to the rhythm of the rails in your cozy private bedroom.

• As a Silver & Blue class passenger, you enjoy pre-boarding privileges and priority baggage handling at major stations, comfortable bedrooms with nightly bed turn down service, exclusive use of shower facilities, exclusive use of lounges and observation dome in the Park car, and an on-board Activity Coordinator. Special touches include a "Welcome Aboard!" reception and appetizers and wine, personal shower kit, 24-hour complimentary tea/coffee service, and of course, courteous staff attentive to your every need.

• As all meals are included in your trip, dining in Silver & Blue class is a memorable experience in itself. Whether for breakfast, lunch or any of the three evening sittings, an enticing menu is freshly prepared by our on-board chef, featuring soups and salads, superb hot entrees and irresistible desserts.

• Full Draw Regulations are in the previous posting.

• For any further information regarding the Great Train Trip Giveaway ... or the Rivers Train Station Restoration Project, please call 204-328-7841.

• Get your ticket today ... and GOOD LUCK!




THE GREAT TRAIN TRIP GIVEAWAY DRAW REGULATIONS



• Winner will be determined by random draw on February 14, 2009 in Rivers, MB.
• Winner will receive one voucher for TWO passengers for a round trip to either Toronto OR Vancouver aboard VIA Rail Silver and Blue Class valued up to $5,000.
• Ticket voucher not transferable and cannot be redeemed for cash.
• Ticket voucher must be redeemed by August 21, 2009 ~ this will not be extended.
• Departure must be from Rivers, Manitoba.
• Winner responsible for transportation to and from Rivers.
• Winner responsible for all lodging and expenses at point of destination. (Toronto or Vancouver)
• Ticket voucher not valid December 15 - January 5 inclusive and from Easter Thursday to Monday inclusive.
• Only the winner's name on the voucher may use the voucher. It is strictly forbidden to sell, assign, trade or transfer in any manner whatsoever the travel voucher to another person.
• Subject to available of space on board. Early booking is advised.
• Winner will be notified how to reserve their trip.
• Chances are 1 in 1,000 (total tickets sold) to win.
• Winner consents to release of name and photo by licensee for draw announcement.

Posted by Rivers Train Station Restoration Project Committee



VIA RAIL CANADA Partners Generously with Community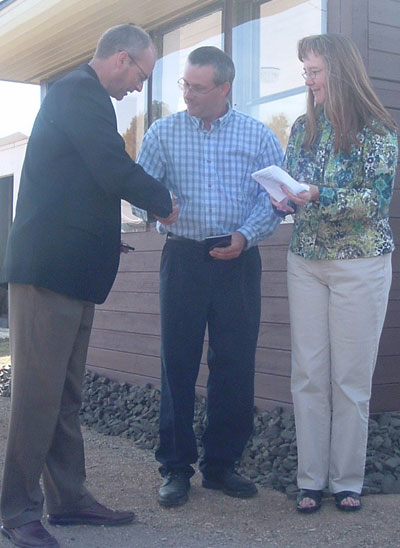 VIA RAIL PRESENTS PROMOTIONAL TRAVEL VOUCHER



Everyone present at the official opening of the Rivers Train Stationette was thrilled when VIA Rail Canada representative Michael Woelcke presented co-chairs Ralph Sprenger and Donna Morken with a travel voucher. The promotional travel certificate will entitle the bearer to two (2) round trip tickets in silver & blue class - valid for travel from Rivers to either Vancouver or Toronto! The value of the voucher is estimated up to $5,000 and deemed perfect as a fundraising raffle for the project.

At a luncheon following the opening, Mr. Woelcke announced that VIA Rail Canada would also be picking up all costs of the renovations made to the stationette building. VIA Rail's commitment in assisting and working with the Rivers Train Station Restoration Project committee is generous and warmly welcomed.

Posted by Rivers Train Station Restoration Project Committee




RIVERS TRAIN STATIONETTE OFFICIAL OPENING




GRAND OPENING SEPTEMBER 9, 2008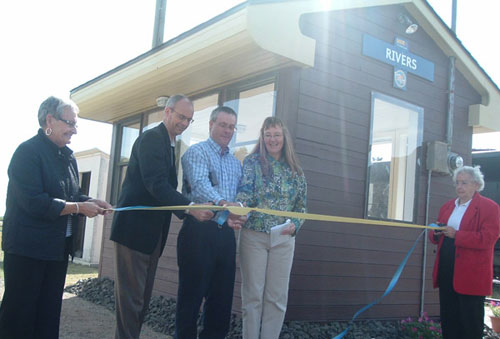 Rivers Train Station Restoration Project committee members Barb Sveistrup and Arleigh White held the ribbon while (l to r) VIA Rail Canada representative Michael Woelcke, committee co-chairs Ralph Sprenger and Donna Morken performed the honours of cutting the ribbon.

The stationette provides a well-lit, warm, secure and safe place for passengers boarding or arriving in Rivers. Formerly located at Brandon North the Rivers Train Stationette is now the only VIA Rail boarding station west of Portage la Prairie into eastern Saskatchewan and between the south and north Manitoba borders.

Community members graciously gave their time and expertise in moving the stationette to it's location. Moving was done by Mark Gill of Gill Farms, Oak River; shingles were donated by Accent Roofing, Brandon; construction work was done by Doug Marriott of Marriott Construction, Rivers; Harold Dyck, Rivers offered his skills in welding and many committee members and their families did the painting and sprucing up! The signage was donated by Neil Roy of Richmond Signs in Brandon. Everyone's efforts resulted in a building we can all be proud of. Just wait til we get started on the main station house!



HERITAGE KEEPSAKES FUNDRAISING



All funding for the Rivers Train Station Restoration Project is raised through government grants; individual, business and corporate support/sponsorship and various fundraising projects such as the sale of heritage keepsakes (railway spikes and station prints), personalized bricks for the Wall of Memories as well as Rivers Train Station note cards. See below.

Posted by Rivers Train Station Restoration Project Committee

Keepsake Spike





RAILWAY SPIKE $25.

Pewter locomotive mounted on an original railway spike adorned with a silver RIVERS plaque.


Keepsake Print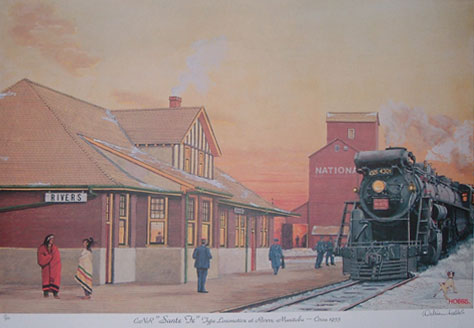 STATION PRINT $50.

A beautiful replication of the Rivers Train Station, painted by Dr. Hobbs of Brandon, Manitoba, Canada is now available in 16" x 24" prints. A keepsake to cherish.

Rivers Train Station Prints available at Carol's Time Again Treasures in Rivers, 328-4434 or from Rivers Train Station Restoration Project committee at 328-7841.

Wall of Memories

PERSONALIZED ENGRAVED BRICKS $50.

Brick by Brick, you can help build the Rivers Train Station Wall of Memories to be built at Millenium Park, in the gardens next to the caboose.

This low, two sided wall will be graced with plantings and be one of the focal points in the development of the Millenium Park in Rivers.

Each brick will be a tribute to community members both past and present!


• Personalized Engraved Bricks for the Wall of Memories may be ordered by calling the Rivers Train Station Restoration Project committee at 328-7841.

RIGHT ON SCHEDULE!
The RTSRP Committee is right on track!

• Through a fully funded educational project a Brandon University student has developed a business plan for the restoration of the Rivers Train Station.

• Research is being made into the most effective and efficient alternative energy source for the station. The options that are being explored include solar, biodisel, geo-thermal and wind.

• Committee members and volunteers have held numerous clean-up sessions at the station, preparing it for reconstruction and renovation. Looking good!

• The general foundation and structure of the building is in good shape. Steps have been taken to prevent further deterioration of the roof.

• VIA Rail Canada is working closely with the committee and community and is enthusiastic about the future partnership!

• Part of the 'green' restoration plan for the roofing may include Enviroshakes® ... superior shingle product composed primarily of reclaimed materials.

• The committee continues to work hard to promote and spread enthusiasm for the project.


ALL ABOARD!