Sign #1:
Millenial Park & The Grand Trunk Pacific Story

Rivers Millennial Park

In 1929 the CNR established a gravel pit on this site to serve ongoing maintenance needs of its operations. At one time, an average of sixty carloads of ballast material were being taken from the site daily, resulting in a transformed landscape.
It has now been transformed anew as Millennial Park
Thus it connects us to our Railway Heritage. As we wind our way along the trail and by the Rivers Wetlands Centre of Excellence to the Lake we will learn about the other elements of our heritage.

The Birth of a Town

The story begins with the railway.

At the beginning of the twentieth century The Grand Trunk Railway was a well-established successful company. It had completed a line between Montréal and Toronto in 1856, then expanded rapidly through takeovers and new construction. By the 1880s it had lines from Chicago to the Atlantic coast, and ranked among the largest railway systems in the world.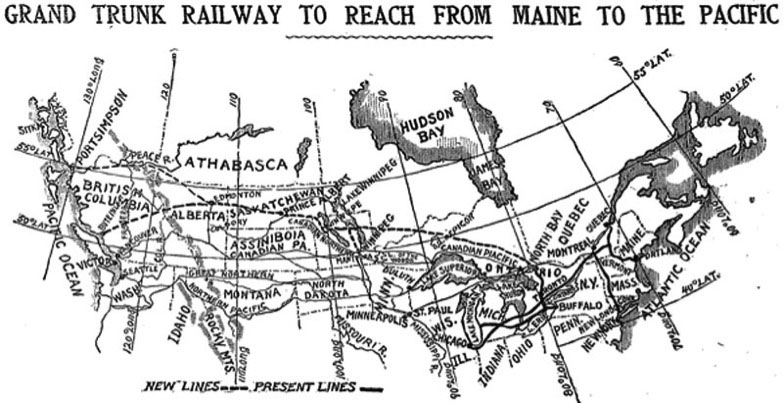 New York Times, Dec. 7, 1902

At that time approached railway operations in western Canada were under the control of the Canadian Pacific, which in 1885 had completed its cross-country line, and by the Canadian Northern.

In 1903 the Grand Trunk established a subsidiary, the Grand Trunk Pacific Railway, to build a line from Winnipeg to the Pacific. Under Charles M. Hays, the Grand Trunk's energetic general manager the new company pushed its line west.

In 1907 the Grand Trunk Pacific entered the municipality from the east. A spot just west of the crossing of the Little Saskatchewan River was just the right distance from Winnipeg to be designated as a divisional point. It would require a large station, a roundhouse and a host of storage, maintenance and housing facilities. Thus a substantial town was born, named Rivers, after Sir Charles Rivers Wilson, the Grand Trunk Chairman.

By 1925 The Grand Trunk had been absorbed by the Canadian national Railway and was part of an extensive network which connected Rivers to all parts of Canada and beyond.